7 CleverStaff achievements: summing up the results of 2022
It was a very difficult year for everyone. But CleverStaff developers have implemented many innovations that objectively facilitate the functionality of a recruiter, make it more comfortable, productive and even… exciting! So, let's summarize.
1. Let's start with the most exciting – with gamification
This is, without exaggeration, the main update of this year.
The concept itself was developed in 2021, and the software block in test mode received the first feedback on Independence Day-2022.
Gamification begins as soon as you open the "Achievements" tab in the menu, and you are greeted by the ancient goddess Artemis, the modern patroness of recruiting. It informatively visualizes daily successes that are usually invisible and difficult to count. Here daily users receive awards for all current affairs – from placing a vacancy to organizing interviews, celebrate "round" events, accumulate experience. 
Those who get a sense of drive from competition can compete with colleagues for prizes. All this really looks interesting and encourages.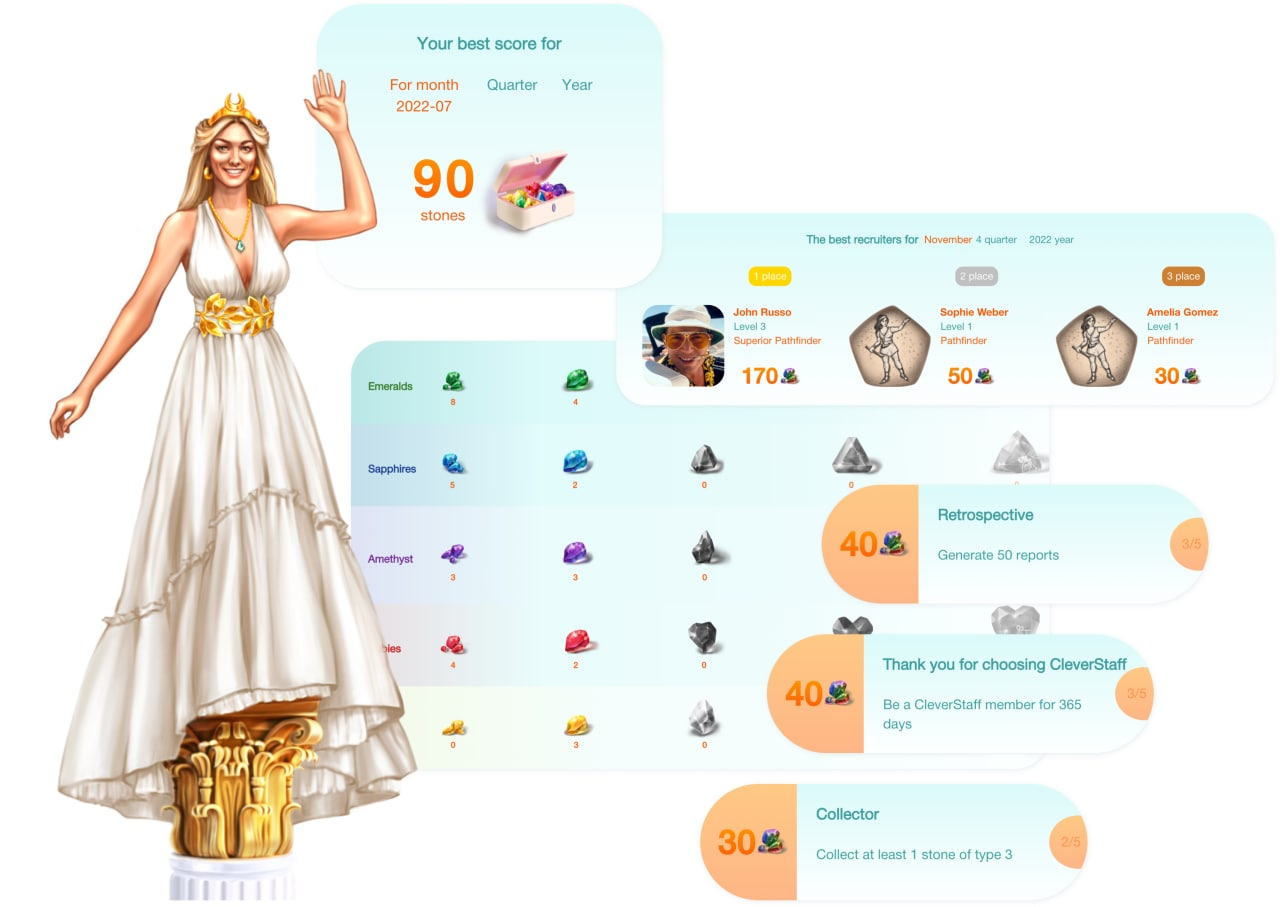 Why is the gamification? The fact is that the search and selection of personnel contains a lot of routine work, which a recruiter performs partially with the help of software. Over time, it becomes more, because the data flow and databases are constantly growing. "Our gamification is designed to change the very attitude to work, to make it exciting," says Volodymyr Barkhat, the founder of CleverStaff. – We have been developing the functionality of the system for 8 years, giving recruiters more and more tools. But the effectiveness of the recruiter naturally decreases over time. And when the most popular functions are implemented, it is very difficult to simplify recruiting by at least 10%. That is why we decided to make such a rare, powerful and promising move for the software – to implement the emotional component" – says Volodymyr. 
By the way, CleverStaff was the first in the world to offer recruiters gamified software – with digitization of achievements and emotional focus on work.
You can learn more about gamification in the guide.
2. Integration with DOU and Djinni 
Let's move on. In CleverStaff you can now save feedback from DOU.ua. You just need to post a vacancy on the site and get feedback on it – and you will automatically be able to save them using our plugin.
Another powerful integration was also realized, which ensures the candidate profiles' saving from Djinni.co – both basic (public and without contacts) and already open (with contacts). If you have not tried it yet – try it, it works in a very user-friendly way.
3. Integration with Google Meet and security of Office 365
Integration with Google Meet when transferring a candidate to the interview stage allows you to create a meeting and invite not only the candidate but also other participants to it – they will receive an invitation.
Now you can also edit the invitation letter for a candidate individually by integrating your Google Calendar into CleverStaff. All this significantly saves time.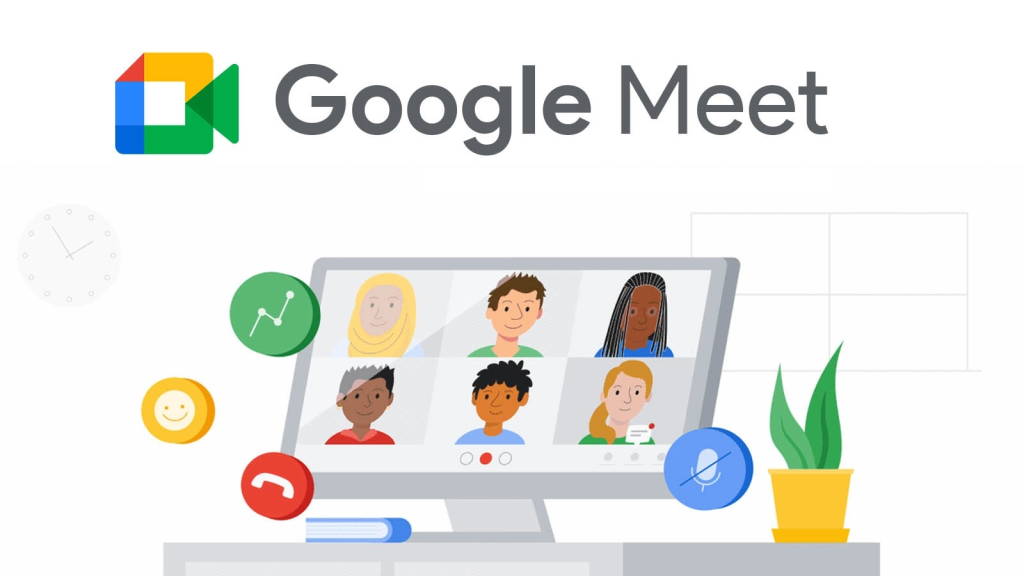 At the same time, CleverStaff has provided a secure connection to Office 365 mail – through authorization using the OAuth 2.0 protocol. This protocol is considered the most secure in the world. Old integrations will work for some time, but we recommend you to delete the old one and integrate your mail again.
4. Updated assessment cards
Another significant update to CleverStaff – assessment cards. What has changed?
First of all, we have improved the design of the cards to make it easier to orient in case there are a lot of assessments. For this purpose, we replaced the visual display of the assessment with a numerical one – for the convenience of comparing candidates with each other.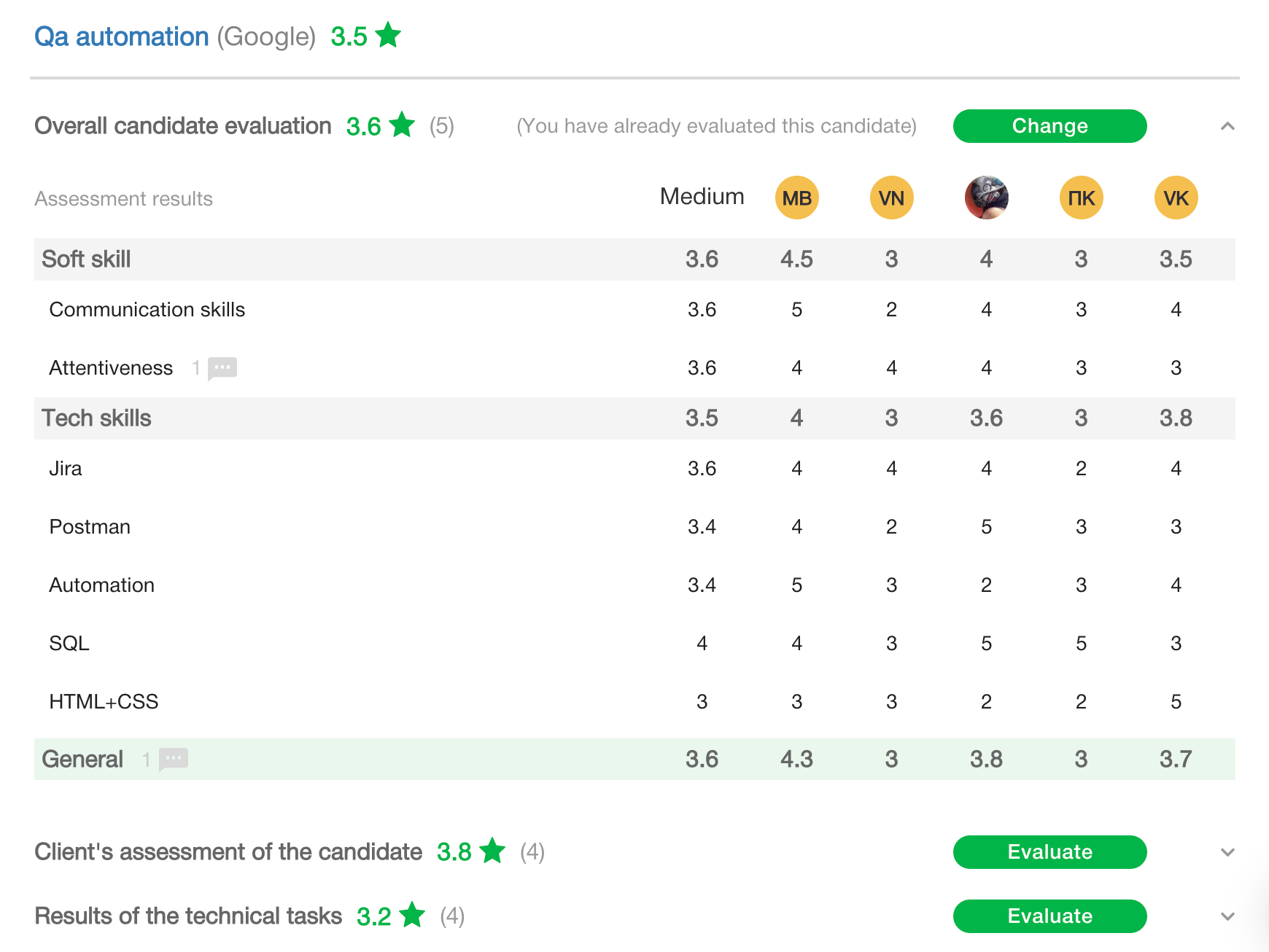 Secondly, we improved the formation of the assessment. Previously, the total assessment in a card was given by users on their own, and the assessments by criteria did not affect it, which is not entirely fair. Therefore, now the  total assessment is formed as an average between all criteria in the card.
Thirdly, now, in addition to the general comment, you can write a separate comment under each of the criteria.
Moreover, previously it was possible to add only one assessment card to a vacancy, and in case of its replacement, the already assigned assessments on it were deleted. But now you can attach up to 3 cards to one vacancy, and when replacing the cards, the assessments are not deleted.
You don't have to worry about previous assessments – they are also saved and recalculated according to the new formula only when editing. More information about the new assessment cards can be found here.
5. Mentions of users in comments and other improvements
During the year, CleverStaff added many additional options. For example, the ability to mention other users in comments on candidates, vacancies and customers through the @ symbol. The specified user will receive a notification by mail and in CleverStaff notifications.
Also, now the Administrator can open the visibility of attachments for the candidate (including salary information) for Hiring Manager in the settings.
We also improved the advanced search – now you can perform it by several skills at the same time; in the upload of candidates to Excel, we added the column "Responsible for the candidate". Also for your convenience we offer new payment methods. 
6. Updates of Automatic selection of candidates
We managed to implement a lot of interesting things here. For example, new search parameters such as "Skills", "Experience", "Type of employment" and "Role".
Moreover, now a recruiter determines by himself/herself what parameters to select candidates – he/she can set his/her own set for each vacancy separately, or set it by default for all vacancies. 
What is very important: from the automatic selection page, you can go to the search in the "Candidates" section in one click, where the requirements from your vacancy will be automatically drawn to the "Advanced Search" and the necessary filters will work. Automatic selection and advanced search selects candidates in different ways. We tell about it in detail here.
As part of the Automatic selection update, we have added another feature – when you create a new Job and go to the "Candidates" section, CleverStaff will offer you to search for candidates according to the requirements in the Vacancy. This means that you do not need to re-enter all the requirements in the advanced search if you have already specified them when filling out the Vacancy.
7. Redesign, common vacancy funnel and etc.
During the year we have carefully reorganized our sections, settings and some menu items. For example, we hid less popular sections in "three dots" so that they did not take up much space. Instead, we added new ones – "My Profile" and "Users".
All integration settings are now placed in a separate menu. Also, we now visually inform you whether you have the integration set up.
Another important point – we added the ability to build a report for several vacancies (" Vacancy Funnel"), on the condition that these vacancies have always had a single order and set of stages. We also added new information to the vacancy report about how much time the candidate spent at each stage. Details of the innovations can be found here.
So, these are just the main points we want to remind you about. Working on releases, our main goal is to facilitate, optimize and improve the hard work of a recruiter as much as possible. We hope that we succeed in this. 
Next year the team will work on improving email patterns, auto-sending emails when candidates are transferred to a new stage, updates on gdpr (data protection). We also plan to introduce new reports and a kanban board at the vacancy stages. So, see you in the New Year!