Search on the database by custom fields — new feature in CleverStaff
Since the introduction of the custom fields feature a year ago, CleverStaff users evaluated its convenience and got used to it in their workflow. This feature allows one to add custom fields to vacancies' details, candidates' profiles and clients' data, if there is no necessary fields by default in the system – the real godsend for recruiters! Learn all about the custom fields in the blog post "New feature: custom fields", particularly how to add them and what benefits does this feature bring.
Our team didn't leave it that way! Recently we have implemented the search on candidates by custom fields to let our customers use the maximum capabilities of the feature. The new search by custom fields is just as convenient as the regular search by standard fields.
Due to recruiters customizing these fields according to their own individual requirements for the database management, search by data in the custom fields quite often is the most convenient way to find the information. This feature is extremely useful in case one needs to quickly search the profiles of candidates sorted by the criterion specified in the custom field.
How it works
After you've created a custom field in the candidate profile and filled it, you can easily find this profile in the database by the contents of the added field.
To do this, open the "Candidates" tab and click on the "Advanced Search" button.


 
In the "Other" block, select the name of the required custom field and enter your query.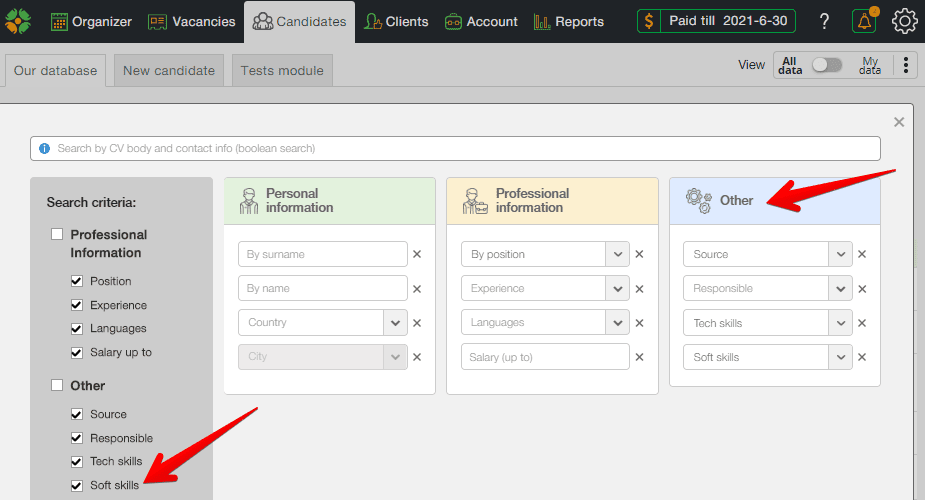 Very handy, isn't it?                 
Your friends @CleverStaff