Dear friends! There is a new opportunity to invite a freelance recruiter to your account, so that this recruiter could work with some vacancies only and would not see the whole database.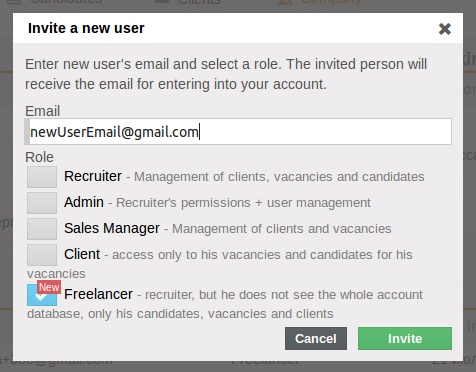 Therefore, the freelancer would see and work only with the vacancies added by him/her or those he/she would be set as a responsible one for. The freelancer would also see clients and all candidates of the vacancies he/she has access to, but not the whole database of the account. We have added the special "Freelancer" role to CleverStaff to provide it ("SoftServe" and "Indigo" companies were interested in this option). This is the fifth user role in CleverStaff ATS.
The feature allows companies cooperating with freelance recruiters to work in CleverStaff together with them safely and effectively without worrying about valuable information leakage. It is an easy way to control and exchange the necessary data.
Your friends @CleverStaff