New vacancy page and updating candidates from CVs
Dear friends, we are glad to present you the third February update! This time it has 7 points:
The main improvement is the "Vacancy" page divided

into

tabs and looking more user-friendly (i.e. easy to understand). Now you have more space for the list of candidates,

tasks

and recommendations.

Now users can update descriptions of the candidates while attach CVs. This improvement was made on request of Olga Makarova (KamaGames).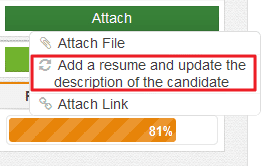 The new payment service WayForPay is available in the applicant system. The amount of successful payments has increased.
Three bugs have been fixed thanks to notice of Karina Taran (AMC Bridge Ukraine).
The recruiting funnel has been improved on request of Oxana Goncharova.
The Client's role was renamed to Hiring Manager with assistance of Irina Lisovska (PulsarFour). Now the role's name and ordering party (company/department) have different titles.
The tariff plans' description on the start page has been updated.
Team CleverStaff