IT Sourcing and Procurement
Tech recruiters need to validate and test different platforms for finding candidates. Today your Linkedin profile was active, but tomorrow it will be blocked. Candidates end up on even the highest-performing channels. You have to look for Data Science specialists on Kaggle or organize intensive for QA.
We asked ITExpert's Recruiter Team Lead, Maria Kutsevol, to share her tips and insights on using different search channels. The ITExpert team has been helping worldwide companies in recruiting, working with languages from Java to Ruby for over six years, and constantly testing new ways to find candidates.
Linkedin
Linkedin is a professional social network and central platform for finding IT specialists. In total, about 300,000 Linkedin profiles are registered from Ukrainian IT. This is where candidates describe their current experience and project stacks.
IT recruiters sometimes make do with Linkedin searches. The platform has a high response rate, and there are enough candidates with different technologies.
How to search for candidates on Linkedin:
use boolean search and platform internal filters,
make posts with vacancies,
use inmails (letters available to Linkedin Recruiter users).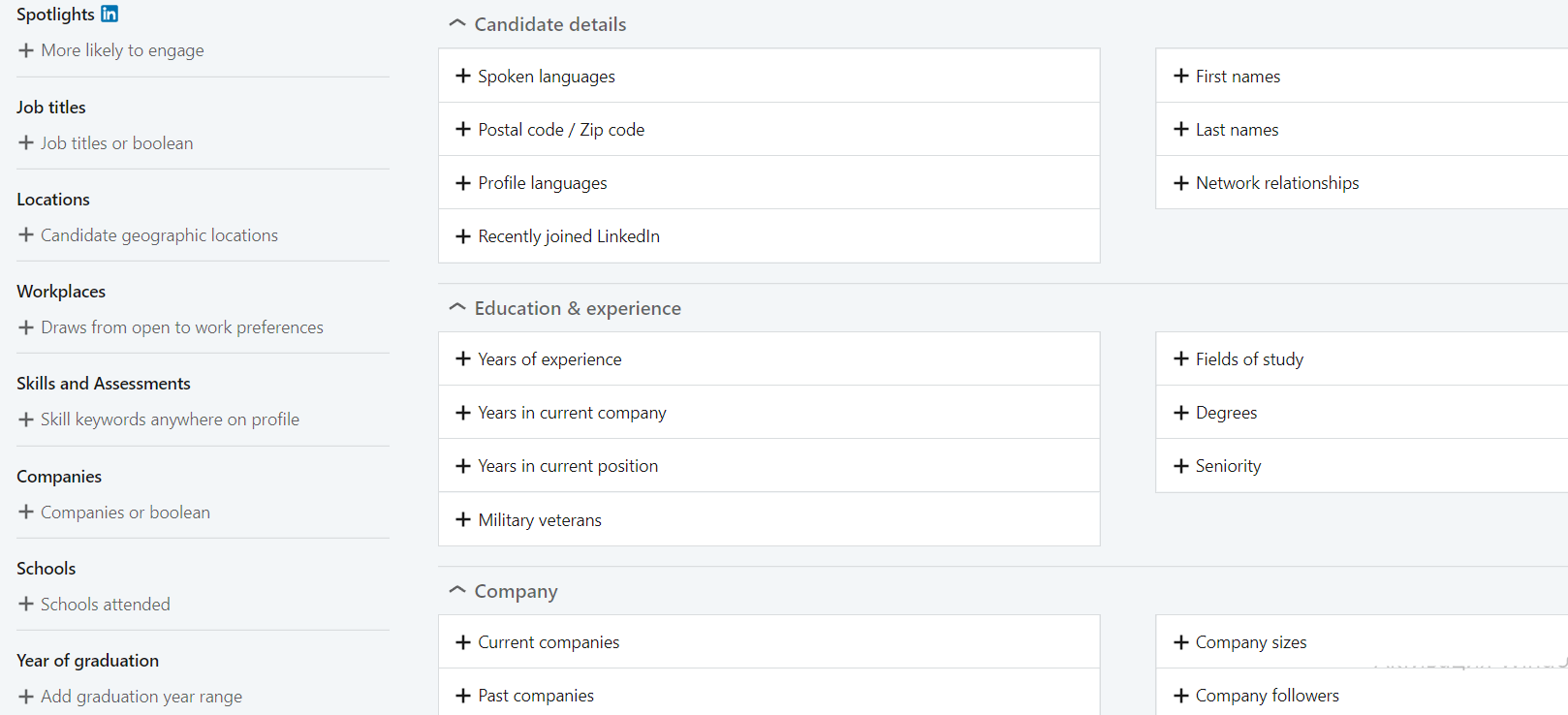 Some of the advanced filters on Linkedin Recruiter
Djinni
Djinni is a site for an anonymous job search in the IT sector. Now there are about 27,000 active specialists on the platform. Candidates only open their contacts to recruiters when they are interested in a job.
Over the past year, Djinni has become one of the most popular recruiting channels. Posting vacancies and hiring Junior is free. But if the recruiter writes to the specialist and he accepts the offer, he will need to pay the platform 30% of the candidate's monthly salary. Due to this condition, not all employers use Djinni in full.
How to search for candidates on Djinni:
post vacancies,
select candidates using internal filters and write to them in private messages
The number of active profiles on Djinni
Github
GitHub is a portal where you can store code and do collaborative development in open source.
Usually, recruiters use this platform when there are no more candidates on Linkedin and other resources. Sourcing on GitHub is time-consuming and not always successful. At the same time, on the platform may be specialists who are not registered anywhere else.
How to search for candidates on GitHub:
use boolean search and platform internal filters,
pull candidates contacts using the ".patch" function. That is the way to do it:
Algorithm: How to Find a Candidate's Mail on GitHub
DOU
Dou is a popular forum in Ukrainian IT. Here developers write articles and reviews, leave feedback about employers and check current salaries.
Dou is primarily used to promote the employer's brand. On your company page, you can talk in detail about the team and the goodies, ask the current team to leave honest feedback, post internships, or information about webinars for developers. You can also post vacancies on the platform.
How to search for candidates on Dou:
post vacancies,
post advertising banners with vacancies on the platform,
find specialists who work in companies with a similar technical stack or leave feedback about them.
An example of a company page design from the Beetroot company
Social networks
IT rarely uses social media to communicate with candidates. Developers are usually not ready to receive offers there and may have a negative attitude towards recruiters who knock on their Instagram.
But there are cases where social media is the recruiter's best assistant. For example, there is a request for Team Lead who can motivate and inspire the team (and we worked with such vacancies). Then the recruiter can search for expert blogs on Youtube or conference lecturers who have checked in at the event on Facebook.
For example, that is the way, how to search for candidates on Facebook:
use boolean search and platform internal filters,
publish vacancies on the company page,
search for posts by hashtags (for example, #Java),
find speakers or conference attendees on IT topics.
Classic Job Portals
Generally, IT recruiters avoid Job portals (Rabota.ua, Work.ua, grc.ua). They think that it's impossible to find IT specialists there. This is not entirely true.
For example, Rabota.ua has about 16,000 active IT candidates. Of course, you won't find 15 Senior DevOps Resumes on Azure there. But you can find such candidates:
Junior specialists with different stacks,
developers in PHP, WordPress, Joomla, and so on,
other positions in IT: system administrators, designers, support specialists, PM, BA
How to search for candidates on Job portals:
use the platform's internal filters and open contacts of candidates (usually up to 10 contacts per day),
post vacancies (different number and format of publications depends on the paid package),
post advertising banners with vacancies on the platform,
buy a contact database of candidates on certain filters.
Things to Remember
Companies are not limited to these search channels now. They run a sign-on bonus program of up to 4,500 $ (offer acceptance bonuses) and advertise the employer's brand on television. Always focus on your recruiting goals and select only the right channels for them.
And if you are not sure which search channels you need to select, consult with the ITExpert recruiting agency. All recruiters are tech-savvy and know how to search for candidates on niche-specific platforms.